Second-Chance Financing near Maumee, OH
Have you given up on the prospect of owning a vehicle of your own? If so, there are many people like you who truly believe they never will be able to drive their own car—or at least won't for a number of years until their credit is far higher. At Dave White Auto Credit, we understand that unforeseen circumstances can easily give unexpected hits to your credit, so even very responsible buyers can find themselves with a lower score than they deserve. That's why we offer second-chance financing, so everyone can get behind the wheel of a great automobile. If this sounds like the right opportunity for you, just give us a call at 419-882-8736.
How Do We Work With Your Credit Score?
A second-chance auto loan is designed with people like you in mind, people who have the means to pay for a new vehicle but are now inhibited by their deflated credit. To combat this issue, our dealership plays the middleman between you and local lenders, potentially even acting as lender ourselves so that you can get started on an excellent financing plan. The best part of this system is that each month when you successfully make a car payment, your credit will slowly improve. On the other hand, sometimes your credit simply isn't as low as you think. In that case a bank or lending institution may be more than willing to allow you to borrow from them. All this depends on your credit score, income, and the amount you might be willing to spend as a down payment.
Online Features
Ready to get a jump-start on financing your next purchase? You can begin right here on our intuitive website. Simply scroll up to the Finance tab and you'll see great tools that will help you with your goal of eventually acquiring a new vehicle. First of all, we'd recommend using the Payment Calculator. This helps give you a realistic sense of what you can afford to spend each month on a vehicle. If you're feeling confident in the whole process, you can use the 30-second pre-approval tool and the Finance Application so that when you arrive at our dealership, you're already a good way through the financing process.
Our Inventory
And finally, don't forget to indulge in the most fun part of buying a new car! You might be worried about your credit, but you're also taking great steps towards bringing home a beautiful piece of machinery. Just like with financing, you can complete a large part of this step online. Either select Sylvania or Maumee Inventory and enjoy browsing through our in-depth search engine. Filter based on all your preferences and then click on our vehicle images to see all the information we have on them.
Feeling eager to overcome poor credit and finally get behind the wheel of the vehicle you want? Come by Dave White Auto Credit today and start asking about our second-chance financing near Maumee, OH. While you're here, ask about a test drive!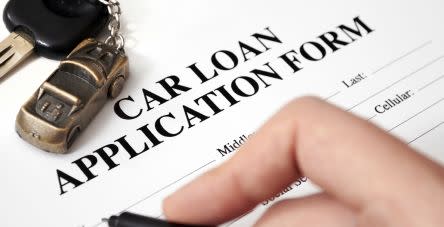 Sales Sylvania Hours
419-882-8736
| | |
| --- | --- |
| Monday | 9:00 am - 9:00 pm |
| Tuesday | 9:00 am - 6:00 pm |
| Wednesday | 9:00 am - 6:00 pm |
| Thursday | 9:00 am - 9:00 pm |
| Friday | 9:00 am - 6:00 pm |
| Saturday | 9:00 am - 6:00 pm |
| Sunday | Closed |